Description

Pill Crusher Silent Knight PROFESSIONAL
Pill Crusher Silent Knight PROFESSIONAL: The Silent Knight has long been a significant and highly trusted system component in medication management.
Silent…will not disturb patients or staff
Ergonomic Handle…fits all hand sizes
Effective…powerful dual action crushes pills to powder in a few seconds
Patient Safety…Eliminates cross contamination
Pill Crusher User Safety…Maximum results with minimal effort. Contour cover encloses internal moving parts.
The Silent Knight has long been a significant and highly trusted system component in medication management.
Long term care facilities and hospitals in the United States and around the world use the Silent Knight everyday.
Thousands of healthcare professionals and tens of thousands of patients have benefited from the performance of thi
s widely
used device.
Drug coating are harder and tougher, and therefoe a higher pressure is needed to crush them…
Discouver the Pill Crusher SILENT KNIGHT®
Easy to use :
The drug is put into a polyethylene bag. The Pills are ground into fine powder at the very pressure on the "SILENT KNIGHT®".
Hygiene and safety :
Any risk of contamination and dosage error is eliminated. The "SILENT KNIGHT®" does not requier any cleaning or sterilization.
Ergonomics :
The handle offers a good grip and the crushing mechanism is effortlessly activated, wich avoids pain in the shoulders and upper limbs.
Economical :
As the drug is crushed within the bag, there is no loss of product.
Silent and effective :
Due to its completely silent mechanism, "SILENT KNIGHT®" can be used at your patient's bedsides. No battery, no power source is needed.
This model, made from aluminium alloy, is 27cm long, 8cm wide, and 12cm height.
Pill Crusher. Advanced Engineering and Design:
Advanced engineering and design components have been applied to the original Silent Knight's basic operating and crushing features to create the New Silent Knight.
The patented dual action "crushing and grinding" movements of the New Silent Knight result in silent, smooth, effortless and effective crushing of pills to fine powder.
The crusher handle is designed for all hand sizes to fit comfortably.
User safety is enhanced with the specially designed internal handle shock absorber.
And the surgical quality stainless steel crushing components, along with a solid aluminum base and handle, make the New Silent Knight a powerful, highly effective and durable piece of medical equipment.
Bags for Silent Knight Pill Crusher
Reference: AbAL600010
Package: Contains 1000 Bags for Silent Knight Pill Crusher
Medications Not to be Crushed
Medications should never be crushed without the approval of a pharmacist and the express written order of a physician
Silent Knight Pill Crusher:
Materials: Stainless steel, anodized aluminum. Latex free.
SILENT KNIGHT and Three easy steps: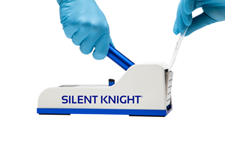 Step 1.
Place pill(s) into Silent Knight Pill Crusher Pouch. Lift handle and place pouch down between the crusher plates to initiate crushing.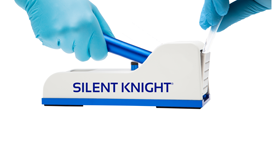 Step 2.
Press handle down to crush pill(s). Lift handle and pull pouch upward to halfway up the crusher plates.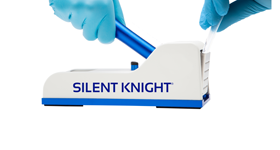 Step 3.
Then press the handle down to activate grinding movement.
Press handle down several times to grind pill(s) into fine powder.
Repeat if needed.
Then remove the pouch and add the medication to an appropriate serving medium for administration